"INTERNATIONAL RESEARCH. Society. Politics. Economics" Journal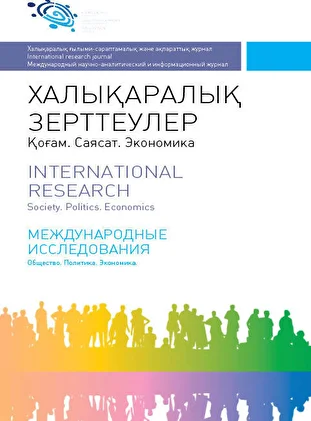 International scientific-analytical and informational journal "INTERNATIONAL RESEARCH. Society. Politics. Economics" began to be published by the Institute for Socio-Political Research
(ISPR - Kazakhstan) in 2009. In 2013, the rights to publish the journal were transferred to the Public Opinion Research Institute.
The journal is registered in the Committee of Information and Archives of the Ministry of Culture and Information of the Republic of Kazakhstan (Certificate No. 13492-Ж), has an international standard serial number ISSN 2224-0276.
The journal is published 4 times a year. One issue is published in English.
The priority of the journal is coverage of urgent social problems. The main focus is the results of research projects conducted in different countries of the world.
Advisory support to the publication is provided by renowned and authoritative scientists from Bulgaria, Great Britain, Germany, India, Spain, Kazakhstan, China, Lithuania, Poland, Russia, the USA, Tajikistan, Turkey, Finland, South Korea, Japan - members of the Editorial Board of the journal.