EDUCATIONAL MIGRATION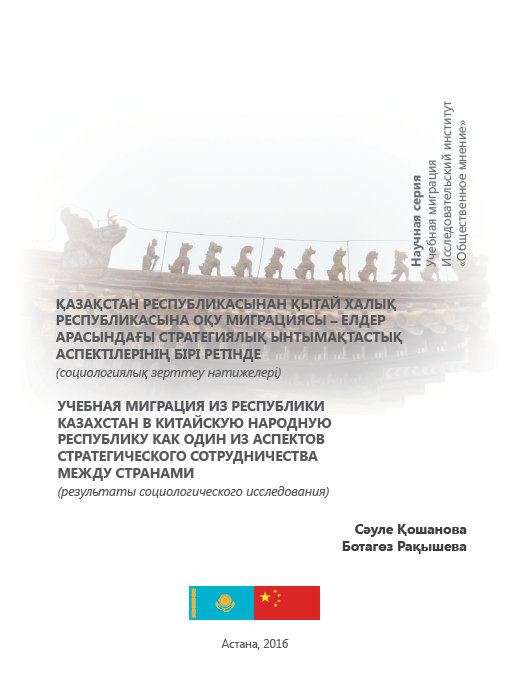 Educational migration from the Republic of Kazakhstan to the People's Republic of China as one of the aspects of strategic cooperation between countries (results of a sociological study).

Educational migration is one of the factors contributing to the strengthening of interstate cooperation. Every year more and more young Kazakhstanis choose Chinese universities for education. Thus, the number of students from Kazakhstan in the neighboring country has increased 14 times over the past decade.

The publication was prepared on the basis of a survey of Kazakhtan citizens studying in China. A total of 407 respondents were interviewed (from 16 to 34 years old; the average age is 21 years old). Period of the study: June-December 2015.

The research methodology is based on the complex use of quantitative (407 students from Kazakhstan studying in China were surveyed) and qualitative methods of collecting information (survey of 60 experts, analysis of statistical data, content analysis of the media). In the course of the study, interviews were conducted with teachers, employees of international departments of Kazakhstani and Chinese universities, diplomats in charge of education and culture of bilateral relations, Kazakhstanis who graduated from Chinese universities and work both in homeland and in other countries. An analysis of the speeches of officials of the two countries, press articles, statistical data from the Embassy of the Republic of Kazakhstan in the People's Republic of China and the Embassy of the People's Republic of China in the Republic of Kazakhstan, the Ministry of Education and Science of the Republic of Kazakhstan, the Ministry of Education of the People's Republic of China supplemented the picture that emerged from the results of the interview and survey.

The sociological research, conducted in 14 cities of China (Xian, Beijing, Shanghai, Guangzhou, Lanzhou, Urumqi, Dalian, Qingdao, Nanjing, Wuhan, Guilin, Xiamen, Zhengzhou, and Hangzhou) among Kazakhstani students from 49 universities, reveals various aspects of educational migration. On the basis of a multilateral study of this topic, the research showed the importance of a continuous monitoring of the intentions of students, as well as the need for timely measures that will significantly strengthen the intellectual potential of Kazakhstan.


The book is intended for a wide audience.
Download in Kazakh and Russian
Download in Chinese
Download in English