Call for Proposals: New Topics for Inclusion into the WVS-8 (2024-2026) Questionnaire
The World Values Survey Association has started to plan the 8th wave of the World Values Survey which will be conducted worldwide in 2024-2026. In the course of 2023, the Executive Committee will update the survey questionnaire for this wave. Given the WVS's time-series nature, about 60% of the current questionnaire (equivalent of approximately 150 items) will be repeated in wave 8. For the remaining 40% of the questionnaire space (equivalent of approximately 100-120 items), the aim is to include measures for several new issues relating to the processes of significant social, economic, and political value change. With this call we invite research projects, organizations, and individual scholars to submit your proposals of new topics and questions for inclusion into the WVS-8 questionnaire.
The Executive Committee of the WVSA has identified several themes where submission of modules and single questions is particularly welcome. This includes:
climate change and environmental protection;
authoritarianism (authoritarian principles and values, norms and practices);
responses to disasters (pandemic or other);
misinformation and the role of social media;
polarization of values;
political participation through social media (non-electoral participation), populism (and technocracy);
methodological innovations incorporating survey experiments.
Submissions on other topics will be considered as well.
Proposed new measures (single questions and modules) must be clear and precise, validated and tested in previous survey / pilot efforts. WVSA's intention would be to divide the 100-120 items of space between 4-5 new topics. For this reason, WVSA strongly advises to limit the proposed modules and batteries to 8, 15 or 18 questions at maximum (per concept). In case of batteries (set of statements featuring same scale applicable to all), every statement is counted as separate question. Single question is there equivalent to a variable. Proposed longer modules will be considered as well but should be accompanied by a clarification (for example, study of a complex multi-dimensional concept requires a greater set of indicators). As a rule, WVS questionnaire does not include open-ended questions.
Most items in proposed batteries or modules should be relevant to all WVS respondents (adults, residents of their counties in the age of 18+), with routing that targets sub-groups kept to a minimum. Items in the module must be applicable globally. If a module targets respondents in a particular part of the world (region, groups of countries speaking one language or identified on another basis), this should be clearly highlighted at the beginning of the proposal.
The WVS-8 survey round is likely to include a mix of data collection approaches, with some national teams carrying out face-to-face fieldwork and others using self-completion or mixed-mode approaches. Applicants therefore need to consider how their module can be implemented across modes.
Format and requirements
Proposals should include 5-7 single-spaced pages in Word or PDF format and structured to use the following sub-headings. To submit your proposal, please send the document by email by the deadline to the WVSA Secretariat (This email address is being protected from spambots. You need JavaScript enabled to view it.), including:
(1) Contact details:Note about the proposer(s) listing institutional affiliations, mailing address and full contact details,
(2) Title: Proposed title of the new theme
(3) Abstract: A brief opening paragraph summarizing the topic proposed for inclusion in the questionnaire (200 words)
(4) The theorybehind the proposed new topic. In particular, how is the topic theoretically interesting for social science and what literatures does it draw upon? Is it policy-relevant for the international community? And is it methodologically rigorous and suitable for cross-national research?
(5) Key puzzles.What important and enduring puzzles flowing from the topic could be tested empirically by cross-national survey evidence? What are the core propositions and testable hypotheses?
(6) How could the topic be operationalized through a short module of survey questions and what existing items have already been asked in previous surveys? What might be the problems of cross-national measurement? How does the topic build upon other items in the World Values Survey? Only previously piloted, valid and robust measures should be included into the proposal.
(7) Does the applicant have funding to support surveying the module? Are there any foundations where the applicant proposes to apply together with the WVSA?
(8) List of sources cited and a select bibliography of publications most relevant for the topic.
(9) Any other comments.
Deadline
All submissions must be received by the deadline of December 1, 2022. All proposals will be carefully reviewed by the Executive Committee of the World Values Survey Association at its meeting in January 2023.
Please, feel free to share this information with your colleagues if you think they might be interested in the current call.
In case of questions, please, contact This email address is being protected from spambots. You need JavaScript enabled to view it..
We are very much looking forward to receiving your proposals!
WVSA Executive Committee, January 28, 2022
Call_for_new_topics_for_WVS-8_2023-2026_questionnaire.pdf
---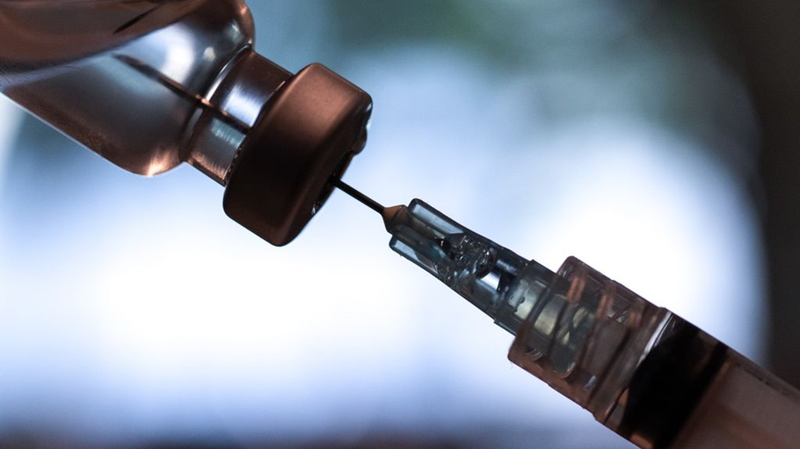 Governments and other stakeholders in Central and West Asia must implement well-planned and inclusive vaccination campaigns to boost public trust in COVID-19 vaccines, according to CAREC Institute. Photo: ADB.
FIVE WAYS TO BOOST COVID-19 VACCINE TRUST IN CENTRAL AND WEST ASIA
26 May 2021
- A survey by the CAREC Institute found that many in Central and West Asia still need to be convinced about COVID-19 vaccines' safety. Here are five ways to boost trust in the vaccines.
- Concern about possible side effects was the main reason cited by some in Central and West Asia who don't want to get vaccinated against COVID-19, according to a CAREC Institute survey
- Vaccination against COVID-19 is a step towards beating the disease and regaining some semblance of normality. Here are five ways to boost trust in COVID-19 vaccines, according to the CAREC Institute.
Since the coronavirus emerged early last year, scientists and pharmaceutical companies have worked at record speed to research and develop safe and effective vaccines against COVID-19. Fourteen months after the WHO declared COVID-19 a pandemic, more than 1.6 billion doses of vaccine have been administered worldwide – a remarkable achievement offering hope of beating the disease and finally regaining some semblance of normality.
Yet creating an effective vaccine is only half the battle because people still need to be convinced to take it. In some countries in Central and West Asia, many have concerns about the safety of COVID-19 vaccines. According to a survey in Georgia, Kazakhstan, the Kyrgyz Republic, Mongolia, Pakistan, Tajikistan, and Uzbekistan, only about a quarter of adults believed that all vaccines that have been tested by the responsible authorities are safe.

About 32% said that even if the vaccine were free and certified safe by their governments, they still would not get inoculated, most commonly citing concerns over side effects.
Distrust of vaccines has its origins partly in 'infodemia', the spread of false information and data that affects public opinion. Disinformation existed long before the internet but as people spent more time online during the pandemic, a proliferation of non-scientific claims and conspiracy theories on social media has distorted public perceptions of the disease and jeopardized attitudes towards vaccination programs.

The survey covered 7,000 people and was conducted in December 2020 and January 2021, before the rollout of mass vaccination campaigns. Although survey sampling always has limitations in terms of population coverage, this survey is representative in terms of gender, age, nationality, and place of residence. The findings are indicative of the sentiment, at the time of polling in these countries, that may impede efficient vaccination.
The survey was conducted by the Central Asia Regional Economic Cooperation (CAREC) Institute, an intergovernmental organization that undertakes research and capacity building for the CAREC Program. CAREC is a partnership for 11 countries to promote economic growth and development through regional cooperation.
Ending the pandemic in Central and West Asia will require a concerted effort by governments and other stakeholders to boost public trust in COVID-19 vaccines. Here are five ways to do it according to the CAREC Institute:
1. Engage medical professionals in COVID-19 vaccine advocacy campaigns
72% of respondents in the seven countries expressed trust in COVID-19 preventive measures and treatment recommendations by medical professionals. However, fewer than one in five cited medical workers as a main source of information on vaccinations.
This suggests that when it comes to convincing people to get vaccinated, doctors and nurses should be involved – not only through high-level media appearances but also in grassroots information campaigns ideally supported by medical associations.
2. Target interventions to specific social groups
Given that demographics, whether people live in rural or urban settings, and levels of education affect people's perceptions of vaccines, policymakers should take this into account when designing interventions. Rural residents, for example, would benefit from information campaigns given their generally lower levels of awareness.
Women often make the decisions on immunization for their families, so it is essential for them to have positive attitudes towards vaccination. The survey found that the most common reason for participating in vaccination programs is for family protection, so policymakers should consider making this an integral idea in advocacy campaigns.
3. Address both vaccine side effects and the misperception that COVID-19 is not serious
Concern about possible side effects was found to be respondents' main reason for rejecting vaccines. It is essential that people who have been vaccinated share their experiences and their state-of-being via traditional and social media channels.
People who have recovered from COVID-19 should also share their experiences to fight misperceptions that the disease is not that serious or even altogether fake. Younger people sharing their experiences will help to counteract the belief that only elderly people are seriously affected.
At every stage of the information campaign, it is important to emphasize the main goal of vaccination – to avoid disease complications and help the population return to the previous rhythm of life.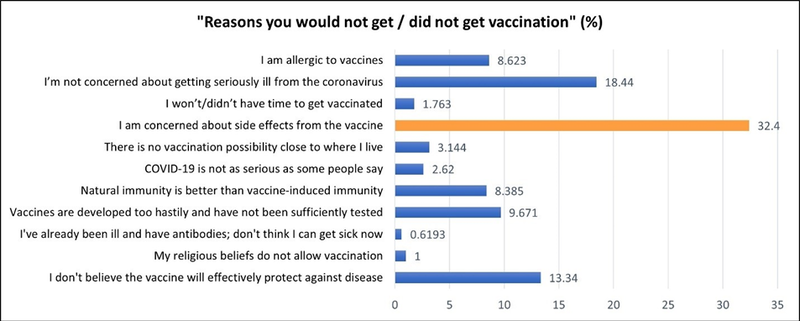 4. Take the epidemiological culture into account
Policymakers must also pay close attention to the epidemiological culture in their countries. This includes general levels of compliance with sanitary and hygiene standards, disinfection, wearing masks during viral infection spikes, and avoiding crowded places among their populations.
Unlike in countries such as Japan and the Republic of Korea which have well-established cultures of mask-wearing, the seven countries surveyed had no such culture. This made it difficult to promote the acceptance of medical mask-wearing within a short timeframe.
5. Use various information channels and increase media literacy
Vaccination campaigns should be implemented using a diverse mix of widely consumed information sources in each country. These could include the dissemination of leaflets and other physical information through stands, medical institutions, shopping centers, and markets. Civil society organizations also have a key role to play. So do religious leaders, whose recommendations are important for reaching significant segments of the population.
To counteract the influence of misinformation, policymakers should focus on increasing media literacy among their citizens, and equip them with the tools to check facts, identify credible news, and critically evaluate the information they receive from different media sources.
Source: https://www.adb.org/news/features/five-ways-boost-covid-19-vaccine-trust-central-west-asia
News
---
On August 25, 2022, Candidate of Sociological Sciences, Scientific consultant, Project director of the Institute Botagoz Rakisheva took part ... Read more ...
---
On July 1, 2022, Candidate of Sociological Sciences, Scientific consultant, Project director of the Institute Botagoz Rakisheva, Deputy director ... Read more ...
---
June 22-24, 2022, Director of the Institute Gulden Ashkenova and Deputy Director Ainur Mazhitova were lecturers at a training ... Read more ...
---
June 15-17, 2022, Director of the Institute Gulden Ashkenova and Deputy Director Ainur Mazhitova were lecturers at a training ... Read more ...
---
On June 16, 2022, Candidate of Social Sciences, Scientific consultant, Project Director, Official representative of the World Association for ... Read more ...
On June 15, 2022, Analyst, Research Methodologist KalamkasYessimova took part in the dialogue platform "Memlekettik kyzmetshinin bolmysy" ("The image of ... Read more ...
---
June 8-10, 2022, Director of the Institute Gulden Ashkenova and Deputy Director Ainur Mazhitova were lecturers at a training ... Read more ...
---
On June 9, 2022, Scientific Consultant, Project Director, Candidate of Sociological Sciences Botagoz Rakisheva, took part in the International ... Read more ...